January 2015
This is the first monthly summary of my 2015 CONDO BIG YEAR!!!
Red dot is my condo building
Red mark is the blue area defined in the first map
The birds! -
Cackling Goose - 2
Canada Goose - 2849
Wood Duck - 1
Gadwall - 8
American Black Duck - 2
Mallard - 80
Redhead - 10
Greater Scaup - 114
Lesser Scaup - 1
Surf Scoter - 1091
White-winged Scoter - 1072
Black Scoter -10
Long-tailed Duck - 7600
Bufflehead - 40
Common Goldeneye - 1433
Common Merganser - 998
Red-breasted Merganser - 374
Common Loon - 1
Horned Grebe - 3
Double-crested Cormorant - 8
Cooper's Hawk - 1
Bald Eagle - 5
Red-tailed Hawk - 4
Rough-legged Hawk - 1
Ring-billed Gull - 535
Herring Gull - 2201
Thayer's Gull - 1
Iceland Gull - 9
Glaucous Gull - 20
Great Black-backed Gull - 479
Rock Pigeon - 2
Mourning Dove - 77
Snowy Owl - 5
Hairy Woodpecker - 3
American Kestrel - 2
American Crow - 6
Black-capped Chickadee - 5
European Starling - 63
Snow Bunting - 1
American Tree Sparrow - 9
Dark-eyed Junco - 3
Northern Cardinal - 8
House Finch - 2
Common Redpoll - 3
House Sparrow - 540
Total species - 45
Total ebird checklists
- 29
Complete Checklists
- 22
Best birds of the month
: Snowy Owls (2-3), Cackling Goose (2), Thayer's Gull
Useless seasonal rarities
: Wood Duck, Horned Grebe, Common Loon
Highlight "big year" birds
: Snowy Owl, Rough-legged Hawk, Gadwall, Common Redpoll
Checklists of the month
:
#1 -
http://ebird.org/ebird/view/checklist?subID=S21236840
(late season/cold migration!)
#2 -
http://ebird.org/ebird/view/checklist?subID=S21577219
(white birds)
#3 -
http://ebird.org/ebird/view/checklist?subID=S21137676
(solid start to the year)
Total species added
to the big year this month:
45
(all of them!)
Big year total to date
:
45
Target species going forwards
: Should I try for Great Horned or Eastern Screech via audio calls? From my balcony? Or on the ground? Any other "winter-ish" birds would be nice to get, but hard to predict...
eBird needs alerts
(the top 10 most common species seen in Ontario in February, that I still need): Blue Jay, Downy Woodpecker, American Goldfinch, White-breasted Nuthatch, Red-breasted Nuthatch, Mute Swan, American Robin, Red-bellied Woodpecker, Horned Lark, Hooded Merganser... I excluded Common Raven, Wild Turkey and Pileated Woodpecker due to my location/situation...
Previous summaries: N/A
---
Thoughts:
I nailed some solid winter birds in January 2015... Nothing too crazy, but Snowy Owl and Common Redpoll would be hard birds to get later in the year (or even next Nov/Dec) depending on how irruptions go. Snow Bunting, Rough-legged Hawk, white-winged gulls etc are all pretty much expected at different points of the year - but getting them out of the way early is probably a good strategy for a big year!

On the flip side, there seems to be very few King Eiders (or rare ducks in general) around my part of Lake Ontario... Those would be nice - but there is still lots of time. My high counts of King Eiders have come from April in previous years, so we'll see if that pattern repeats itself.

Likewise birds like Thayer's Gull and Cackling Goose are pretty "good" - but if I'm going to blow the roof off of this thing, it would be nice to get one of these marauding Gyrfalcons to make an appearance... Never mind something cosmic like an Ivory Gull or Great Cormorant! All I can do is keep looking...

Birding from a condo (which is now next to a major construction site) obviously poses some other challenges, which makes birds like American Tree Sparrow seem like a major score... I keep toying with the idea of placing seed out somewhere I can see from my balcony (but off property)... What do you think - good idea? Or cheating?

The only other interesting/funny observation is the total lack of some bird species. I still need American Goldfinch and Blue Jay! Thankfully there is a lot of time (and migration) left in this thing! Check back in March for the February recap.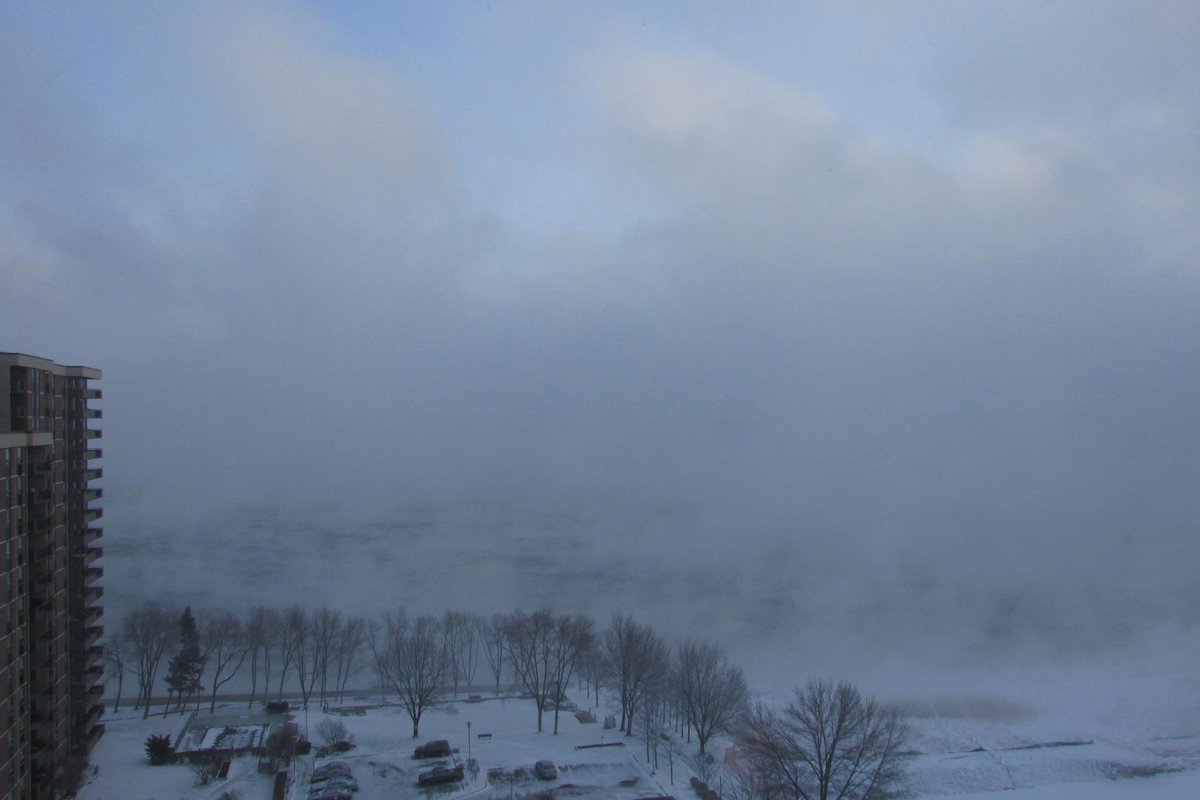 Exceptional steam fog rolling off of Lake Ontario on the stupidly cold morning of January 13th...