We've had a recent rash of vagrants around the Great Lakes; including (but not limited to) White-winged Dove, Common Ground-Dove, Ash-throated Flycatcher, Golden-crowned Sparrow, Neotropic Cormorant, Townsend Solitaires etc.
Oh, and HEPATIC TANAGER
The
weather
- hasn't been the typical storm environment highlighted by birders for vagrancy - such as large extratropical cyclones. It was rather "boring" on the storm front, but I think I'm starting to get a handle on a different weather event that brings vagrants in the fall (maybe spring too, but for now - let's look at fall). It is:
ZONAL FLOW
Per wikipedia: Zonal flow is a meteorological term regarding atmospheric circulation following a general flow pattern along latitudinal lines, as opposed to meridional flow along longitudinal lines. Zonal, in the context of physics, connotes a tendency of flux to conform to a pattern parallel to the equator of a sphere. Generally, zonal flow of the atmosphere brings a temperature contrast along the Earth's longitude. Extratropical cyclones in this environment tend to be weaker, moving faster and producing relatively little impact on local weather.
Here is a rough graphic showing how air (jet stream) and (smaller) storms would be traveling in this type of scenario:
Big dips in the jet stream allow air masses to mix, swirl, and produce high contrast areas of wind and temperature; which is what I often focus on when thinking of vagrancy weather. Zonal flow looks pretty mundane at face value, but I'm starting to see how and why we receive some excellent birds when we are experiencing a zonal flow type pattern.
I first noticed this phenomenon when studying a great vagrancy event in fall 2009, but first I'll show the recent weather maps.
Weather map from Tuesday (Hepatic day). Note the lack of strong storms - or much of anything really... (Not considering the strong storm over Hudson Bay, just off screen). But what did the 850mb (~1500m up off the surface) wind map look like?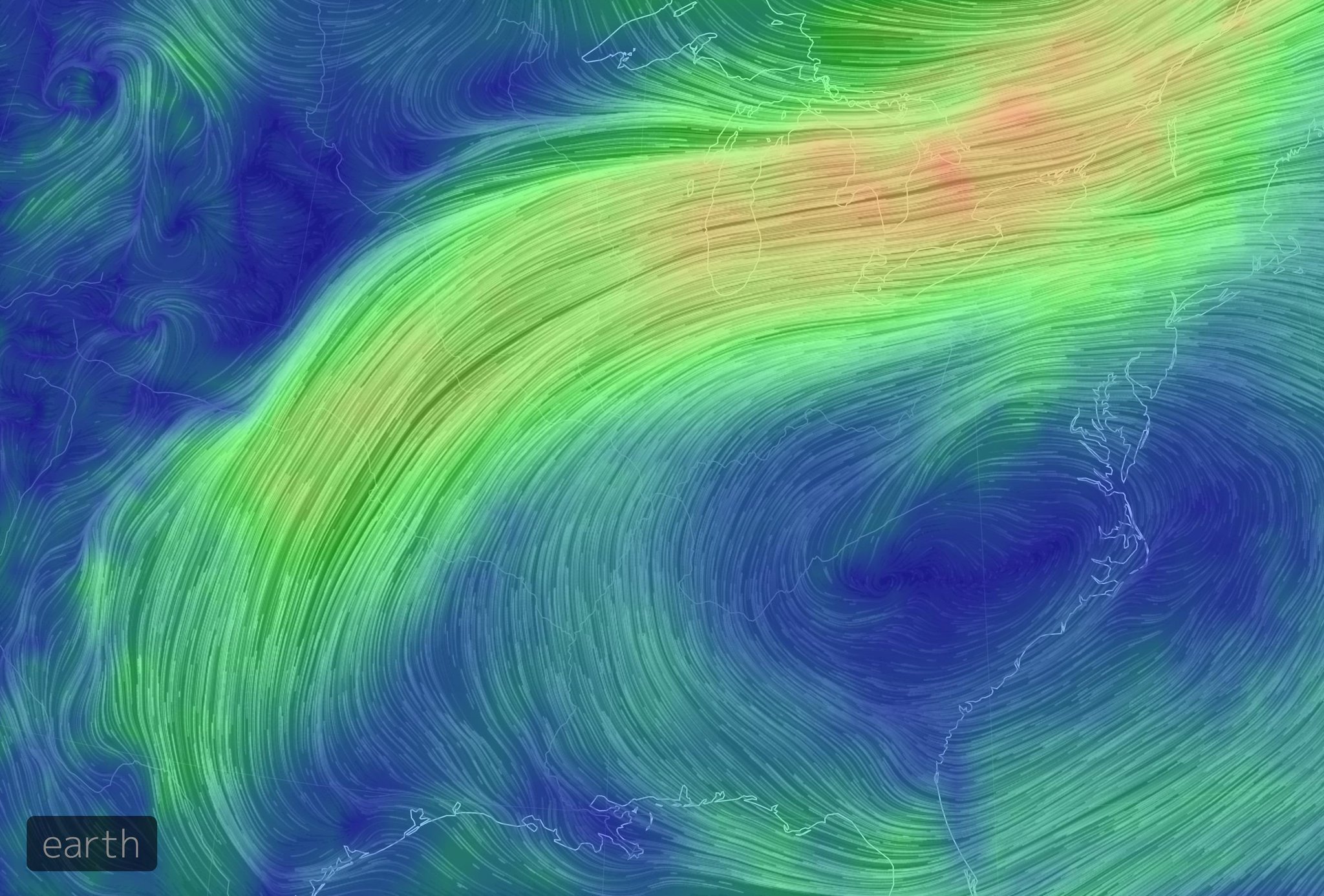 Long distance winds flowing from Texas into the Great Lakes, moving INTO the zonal flow and around the outside edge of a strong centre of high pressure over the eastern USA. I've marked up a few maps to show this:
Map interp (same as above) Yellow line indicating the (nearly) zonal flow of the jet. Green line is showing the direction of airflow that I would expect (just by looking at the surface map).
Real-life observations of 850mb winds (1500m up) and the centre of high pressure drawn on.
One of my best "case studies" for Great Lakes vagrancy is early November 2009 - when we had the following birds appear in Ontario: Ash-throated Flycatcher (Pelee), Sulphur-bellied Flycatcher (Oakville) and Phainopepla (Brampton). Some "other" things found around the same time included Lark Sparrow, Summer Tanager and Western Kingbird. So what was the weather like?
The ATFL and SBFL were both found on Nov 6th, with the others coming afterwards. I am inclined to believe that birds (like the PHAI) "arrived" at the same time, it just took a few days for it to be found. So - I went straight for the maps overnight from Nov 5th - 6th:
See the similarities? I've marked it up:
Once again, the yellow line shows the "rough" zonal flow, and the green lines show the flow of air... The little "warm front" passing over southern Ontario may have helped concentrate birds in S. Ontario more than the recent event which has them spread out over a larger area.
Looking into this type of weather/bird event is quite interesting to me, but also raises many questions or unexpected observations:
- the Hepatic Tanager "overshot" the area I thought would be the "hot zone". Why?
- why are these birds flying north on these S or SW winds? Why don't they just stay put?
- are there any mechanisms at play that would help one predict where the best places are? (eg, why the Hepatic showed up at WPBO)
- or is this type of setup a poor one for predictable landing spots (eg,/ 2009's Phainopepla in Brampton).
- what happens to these birds? (This is what gives me a headache when trying to correlate birds to weather). If a Scott's Oriole is found on a CBC this Dec - is there a chance it actually arrived in ON during this recent storm?)
While I'd be happy to have the answers to those questions, there are still some things that come into clearer focus:
- I strongly feel that these vagrants are undertaking a single, exceptional flight over LONG distances to reach our shores.
- the mechanism for predicting "good" vagrancy weather remains unobstructed, LONG DISTANCE winds; which allows them to undertake these huge flights.
Models are hinting at some unusual weather next week - lots of moisture from the south and potential for big winds and a strong extratropical low. Not the same as this, but exciting it its own way!